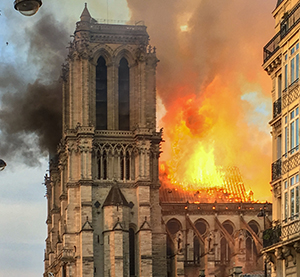 Photo by LeLaisserPasserA38 - Own work, CC BY-SA 4.0, https://commons.wikimedia.org/w/index.php?curid=78064310
I was minding my own business, trying to do a little work on my aunt's laptop while mine is in the shop, when I noticed this Washington Post article about 1) massive donations to repair Notre Dame de Paris after its roof caught fire on Monday, taking the 19th century spire with it, and 2) criticisms of the hyper-wealthy people who will open their checkbooks to replace a European landmark but not whatever other social causes the critics think most important.
My first thought on seeing the fire was simply, "How does this still happen?" Fires have of course consumed any number of cathedrals, palaces, temples, city halls, fortresses, and other buildings of note over the centuries, but we have an awful lot of fire suppressant and monitoring technologies these days. Repair work of some kind was already going on as shown by the scaffolding over the roof prior to the fire.
The article drew out a second line of thought that had been lurking in the back of my mind. France is of course the birthplace of modern Western secularism, the country where the hypocrisy of the Catholic Christian establishment yielded directly to the raging adolescent fury of revolution. It is where the modern pattern of punishing Christianity for the sins of the hierarchy and political establishment by pretending it never had any intellectual foundation was first constructed.
It's a mercy, in that environment, that so much of France's medieval legacy survived in the form of art and architecture. In a way it's good that the French opinion of their own culture is so staggeringly high. Yet these churches are so empty. When I visited France in 1998, I was deeply saddened by this. I wandered through many of these churches in Paris, Saint-Malo, Tours, and Amboise. The churches whose names you might recognize are kept up as museums; there are many, less famous, that are falling into decay even within towns like Amboise. The sprinkling of priests and faithful is spread across the remaining churches exceedingly thinly.
It all makes me feel a little better about our situation here in the United States. Still, when my local parish was holding its campaigns to rebuild the 19th century church and 1920s school building, I kept thinking, "I am glad that we can be this generous to repair roofs and redo tuckpointing... how about we put out this effort to fill these buildings with new people hearing the Good News about how Jesus can actually be in their lives after we rebuild them?"
I listened to two podcasts by Bishop Robert Barron and John Stonestreet of the Colson Center about the fire and how it has been discussed in the media. They commented that today's secular culture wants to focus on Notre Dame de Paris as simply a landmark, an icon of French culture, a pretty building from a long time ago. The desire seems to be to strip this structure of its builders' purpose: to construct a memorial to the transcendent human being whose death we commemorate today, and all the truths that come to us after recognizing him. A memorial place in which the True God, the Being upon which all reality is constructed and the Creator that constructed it, could be worshipped in that man's name.
To be fair, I think the culture of modern media does this to almost everything. We live in such a shallow time. When we confront memorials of centuries past, whether buildings like Notre Dame or books or works of art, we would do better to consider for a while why their makers did what they did and whether human beings with a different outlook on life have something to teach us, or to remind us.