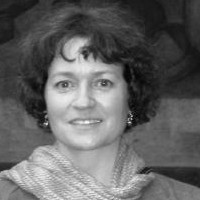 Today we present the second half of the interview with Darcia Narvaez, social scientist at Notre Dame and a specialist in childhood inculturation, attachment, and bonding issues.
We start out this half of the interview with a discussion of what Karl Polyani called the "great transformation" of European society, involving the breakdown of the pre-modern order and its safeguards for a stable population by means of understandings about community use of land, perhaps resulting in the popularity of emigration to the New World by dispirited, dispossessed, and to some extent dangerous people.
Several times Darcia disparages "hierarchy," understood in its general sense of social stratification, which she or other who have influenced her theorize to have caused huge social catastrophes, including the corruption of the Christian Church by its integration into the late Roman state and the collapse of populations and cultures in the New World on contact with the colonizers from Europe. Late in the podcast I ask her explicitly whether there is any benefit to civilization... let us know in the comments on Facebook or Podbean what you think about the answer!
Darcia's claim is that humans are by nature more egalitarian than other animals. This goes right down to childrearing, where human children, born so completely needy, have an innate expectation that their requests for assistance will be met. She comments that there is a Native American word, "wetiko," that was used to describe an attitude thought of as akin to a sickness that characterized those who acted in an aggressive and exploitative way toward others. Whether or not premodern peoples were all more free of this, it's certainly a common feature of civilized peoples. The Old and New Testaments certainly testify to this, and the need to confront it with compassion and an egalitarian attitude. We discussed the specific example of the disease of the large organization, society, business, or government, in which those at the top are simply disconnected, both intellectually and morally, from those at the bottom.
We mentioned subsidiarity, and might have mentioned clericalism... the social science of these concepts will hopefully be fodder for future podcasts.