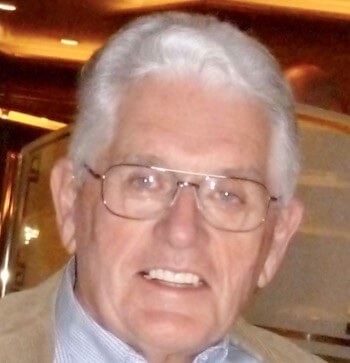 Paul and Bill welcomed Dick Garrett to our podcast. Find an overview of his distinguished career in this story about Dick's zeal for researching and promoting education reform. (The story was written for Purdue's College of Engineering by Bill last year.)
Dick's book, The Kids Are Smart Enough, So What's the Problem?, traces his growing concerns about problems in public elementary education. Those concerns led to extensive research from a business executive's perspective, applying systems analysis skills from his background in engineering. Our interview probed not only the findings from that research, but even more current knowledge of education reform efforts which Dick continues to harvest and share. He has created an online gallery of videos for the general public, explicating what he has learned about educational-outcome statistics and various efforts to improve the outcomes. The videos are part of his "Elevate Teachers" website, which champions robust investments to help both teachers and students succeed.  .
Observed as systems established to give students the knowledge and skills they need, elementary schools face a number of challenges, Dick said. They include segments of young people whose daily classroom behavior is a major burden, requiring teachers to pull away from educating in order to focus on discipline during sizable portions of the school day. He says the lack of self-discipline stems from parenting experiences and other factors tied to low-income community conditions.
Students exhibit the combination of discipline problems and poor academic achievement not because of low intelligence—there is no doubt that they are smart enough to perform well—but because educational systems don't appropriately respond to gaps in their non-cognitive abilities, according to Dick. He says schools must get better at forming general traits he summarizes as character and grit. His book presents examples of educational approaches that have aimed to enhance those traits, making classroom success more likely for all students and teachers.
Where that success is lacking, schools fall behind in graduating students with key competitive metrics—especially a grasp of reading and math skills. This shows up in poor rankings for United States schools in statistics tallied by the Program for International Student Assessment, the US Department of Education's National Assessment of Educational Progress, and other oversight mechanisms.
A 2004 Public Agenda survey found that 85 percent of teachers felt new teachers were particularly unprepared to deal with disciplinary problems in their classrooms.
A recent study by the Kirwan Commission yielded a comprehensive report on problems and prospective solutions in elementary education, and this became the basis of a legislative action plan for Maryland schools. The state government acted in early 2020 to approve funding for preliminary implementation of a major initiative based on Kirwan Report recommendations. Dick said one part of the plan envisions hiring 15,000 teachers. A major thrust of the plan is improved education of low-income children, including a cadre of teachers for smaller class sizes.
One of Dick's aspirations is to help in spreading the word about the Kirwan recommendations so that educational and governmental leaders elsewhere, such as his home states of Wisconsin and Indiana, will consider and implement similar proposals.
Episode 107 of "That's So Second Millennium" next month will include part two of the interview with Dick Garrett. If you find the audio quality for this episode a little lacking, don't blame Morgan... she's on vacation this week. It's all Paul's fault (as usual).